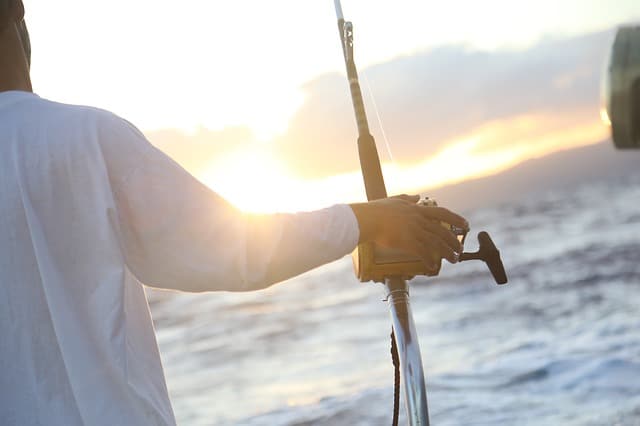 Galveston TX Deep Sea Fishing Charters
At Just Cast Charters we know fish! Whenever you book one of our deep sea fishing trips, we will take you out far beyond the jetties out where the biggest fish spend their time. We will supply you with upgraded tackle to handle the larger fish, while we are out fishing in the deeper water reefs. Booking this trip will give you the opportunity to catch some of the offshore native fish species you do not see on the coastline, without having to go on long boat rides offshore. Whenever you are looking to book an exciting deep sea fishing charter, there is only one company for you, that is Just Cast Charters! Contact us today to learn more about your options and find out what we can do to make your trip perfect for you!
Deep Sea Fishing Galveston TX Prices
One of our typical deep sea fishing charter trips last anywhere from 8-9 hours. We will spend about 6-7 hours of this experience out fishing, the rest of the time will be dedicated to traveling to the location and back. On this trip we will stay within the state of Texas's water boundaries and cover deep water reefs, wrecks, and oil rigs. The most common fish we catch out on these deep sea fishing charters are King Fish, Shark, Jack fish, Tarpon, oversized Red fish, Ling, Trout, Spanish Mackerel, and others. When looking for an exciting, at your own pace, custom tailored fishing experience that will leave you delighted, reach out to Just Cast Charters! Contact us today and learn more about our exciting options!
Deep Sea Fishing Charter in Galveston TX

Whenever you are in the Galveston area and you are looking for the most exciting, all-inclusive fishing charter service, choose Just Cast Charters! We make it easier than ever for you and your friends and family to get out on the water and catch some fish! You show up and "Just Cast!" we do the rest!
Just Cast Fishing Charters
715 N Holiday Dr.
Galveston, TX 77550
Local: 409-209-7999
https://www.facebook.com/justcastcharters